Gülseven Mosque Carpets
---
We specialized in producing mosque carpets and have been experienced for 25 years in this industry. With our talented staff and fully integrated system, we have made mosque carpets for all around the world. Trusted Carpets; Gülseven Hali
Why Wool Carpets
With a view to becoming the leader of the wall-to-wall wool carpet market, Gülseven Carpets has committed itself to provide the highest quality in all stages, from manufacturing to sales and after-sales services.
It's nonflammable due to its natural structure


It's colors shine and become more beautiful as it is used, thus it preserves its first day appearance for many years


It's sound absorbing and provides acoustics where it is used.


It's resistant to dust, dirt and stains, and is easily cleaned.


It's extremely durable and resilient to wear owing to its wool fiber structure
Models of Mosque Carpets
Starting out from the concept that "people deserve the best of everything" we, as Gülseven Carpets family, with each of our employees from the top management to the production staff, have adopted it as a principle to produce the best and the highest quality, and we guarantee to continue to produce the best and the highest quality in the future, too, as we have done so far.
Partitioned Carpets
---
Our yarns are of 100% PURE WOOL and are produced in our own integrated facilities.
Our carpets has International Woolmark Quality standart.
Special chemical LATEX which doesnt makes mildew and bacteria in humid environments
TFI (Textile Flooring Institute) Testreport 450740 Reaction to fire EN 13501 Classification Cfl-S1 TUBITAK BUTAL Colour fastness and Durability tests.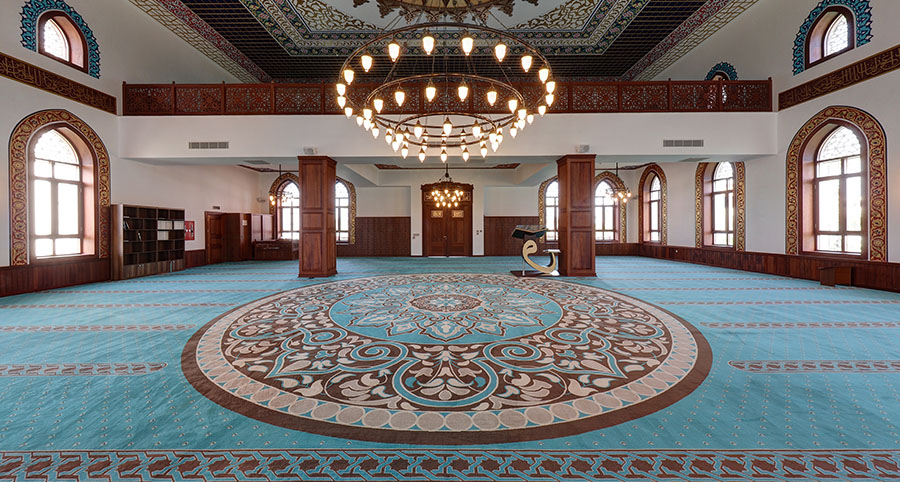 Center Pattern Designed Carpets
---
The carpets that we produce have ultra-durable also they are longevity.
Our mosque carpets have traditional Turkish motifs.
They are import Metalkoplex 1.2 dyes with high color and friction fastness and it does not contain any carcinogen material
Carpets with Prayer Rug
---
Traditional Texture & High Quality
Mosque carpets have a wide color range and are resistant to sunlight.
Hygiene is important for mosques. Our carpets are mothproof and antibacterial.
| Name of Project | Country | City |
| --- | --- | --- |
| Burdett Road Masjid | England | London |
| Nottigham Mosque | England | Nottingham |
| Ideal Flooring | England | London |
| Southend Mosque | England | London |
| Willesden Green Mosque | England | London |
| Al Noor Mosque | England | London |
| Gants Hill Mosque | England | London |
| Redbridge Mosque | England | London |
| Purley Mosque | England | London |
| Becontree Mosque | England | London |
| Handsworth Masjid | England | Birmingham |
| Kings Collage | England | London |
| Birmingham Balfour Masjid | England | Birmingham |
Submit a Call-Back Request